EFFI HOME COUTURE was founded in 2015 by Eva Zimmerbeutel to start up the vision of biophilic textile design, realize exclusive material surfaces and save the value of handcraft for special interior styling.
EFFI HOME COUTURE wurde 2015 von Eva Zimmerbeutel gegründet um die Vision von biophilic Textildesign und exklusiven Materialoberflächen zu realisieren, sowie den Wert der Handarbeit für besonderes Interieur Styling neu zu entdecken.
---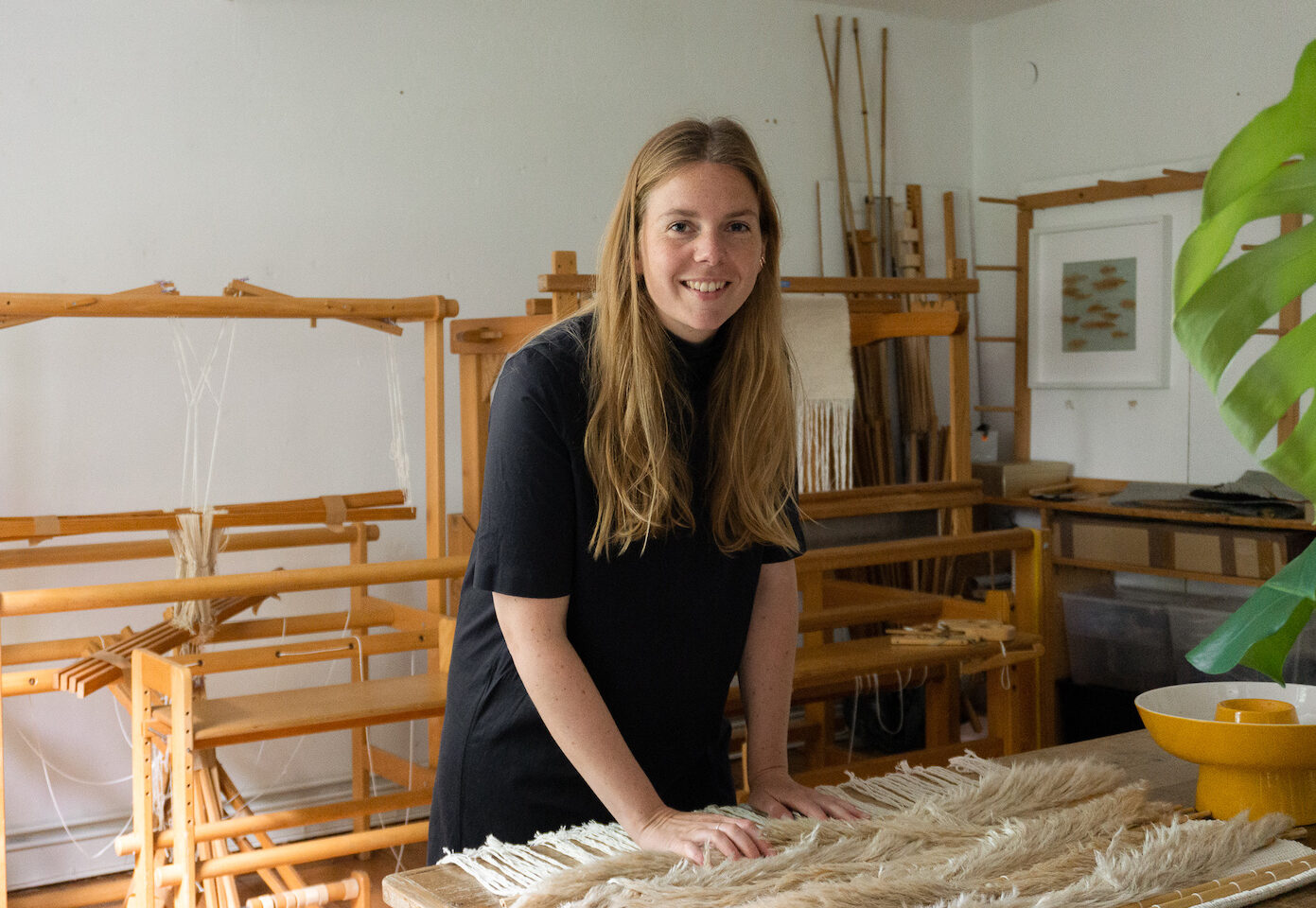 ---
The value of handwoven textiles:
Exclusive and sensible materials like feathers or moss can't be woven by an automatic loom.
Every thread and every material in warp and weft is consciously put in place and checked for a perfect fitting.
A manually operated loom doesn't need any electricity - it's all woman power!
Every weaver and manufacturer works with a different passion and adds a special character to the handmade fabric or product.
Weaving by hand may be a traditional technique but reinventing it in a modern style shows its real value for the future.
Spezielle und sensible Materialien wie Federn oder Moos können nicht von einem automatischen Webstuhl eingewebt werden.
Jeder Faden und jedes Material in Kette und Schuss wird bewusst platziert und kontrolliert für die perfekte Passform.
Ein manuell betriebener Webstuhl benötigt keine Elektrizität - die Produktion ist reine Körperarbeit!
Jede Weber:in arbeitet auf unterschiedliche Weise mit Leidenschaft und verleiht dem handgefertigten Stoff oder Produkt einen speziellen Charakter.
Weben per Hand mag eine traditionelle Technik sein. Überdenkt man dies mit neuen Ideen und fügt einen modernen Stil hinzu zeigt sich der wahre Wert für die Zukunft.
EFFI guarantees a responsible material selection, including various organic components. Many weft materials are obtained locally from second hand, while yarns are ordered from small companies based in Germany or Scandinavia. We are constantly searching for new organic materials in all kinds of natural environments to then test and preserve them in EFFI's material lab. Here, solutions are found to make plants or fungi applicable to textiles.
EFFI garantiert eine verantwortungsvolle Auswahl von Materialien mit vielen organischen Komponenten. Viele Materialien werden lokal aus zweiter Hand bezogen, wobei Garne von kleinen Unternehmen aus Deutschland oder Skandinavien geordert werden. Wir suchen permanent nach neuen organischen Materialien in vielen verschiedenen Biotopen und testen und konservieren diese in EFFI's Material-Lab. Hier werden Lösungen gefunden um Pflanzen oder Pilze für Textilien anwendbar zu machen.
---
Sustainable thinking is a given at EFFI HOME COUTURE. Its's not only about purchasing durable materials but also appreciating them. There is nearly no waste materials during our handcrafted production process. Every tiny thread or strip is used for a filling or simply the next product. Besides, EFFI's catalogues and flyers are printed with vegan eco-ink on recycled paper. Thinking local, fair and sustainable is simply in our hearts and minds!


Nachhaltiges Denken ist eine Selbstverständlichkeit bei EFFI HOME COUTURE. Dabei geht es nicht nur um den Gebrauch von nachhaltigen Materialien sondern auch um den Umgang mit Rohstoffen. Während des manuellen Produktionsprozesses fällt fast kein Abfallmaterial an. Jeder kleine Faden kann für Füllungen oder das nächste Produkt verwendet werden. Nebendessen sind EFFI's Kataloge und Flyer mit veganer Öko-Farbe auf recyceltem Papier gedruckt. Es liegt uns sehr am Herzen lokal, fair und nachhaltig zu handeln!


---
Bachelor of Arts @ Maastricht Academy of Fine Arts and Design (MAFAD)
Designer with all my heart
Teacher for Biophilic Design, Weaving & Illustration
Graphic, CI & Webdesign, Illustration Artist:
www.effi-design.com
In love with architecture, nature, sailing, yoga, drawing, plants & gardening